---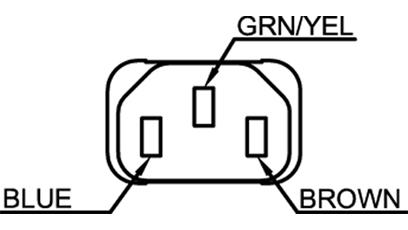 CEE 7/7 EURO SCHUKO RIGHT ANGLE to IEC-60320-C13
Item# 8512.072
6' HO5 .75mm2 B RT EURO TO C13
---
PRODUCT INFO
Our 8512 series features the 3-prong, Right Angle European Schuko Plug (CEE 7/7) with the IEC-60320-C13 Connector.
These power cords are the standard cords used for monitors, computers, printers, scanners, TVs, sound systems, and many more devices & appliances which use the IEC-60320-C14 inlet. This is the European equivalent of the 2500 series, the North American PC Power Cord.
When we refer to a Schuko being right angle, we refer to the strain relief being formed at 90° compared to the pins of the plug. The Right Angle European Schuko, therefore, trails down and away from the wall outlet.
The 8512.072 is a European power cord that carries the European and GOST approvals and is rated at 6A - 250V.
This European power cord can also be used in the following countries:



| | |
| --- | --- |
|  Albania |  Lithuania |
|  Andorra |  Luxembourg |
|  Angola |  Macedonia |
|  Armenia |  Madagascar |
|  Aruba |  Madeira (Portugal) |
|  Austria |  Majorca |
|  Azerbaijan |  Mali |
|  Balearic Island |  Martinique |
|  Belarus |  Mauritania |
|  Belgium |  Moldova |
|  Bolivia |  Monaco |
|  Bosnia and Herzegovina |  Mongolia |
|  Bulgaria |  Morocco |
|  Burkina Faso |  Mozambique |
|  Burundi |  Neth.Antilles |
|  Cambodia |  Netherlands |
|  Cameroon |  New Caledonia |
|  Canary Islands (spain) |  New Guinea |
|  Cape Verde |  Niger |
|  Central African Republic |  Norway |
|  Chad |  Okinawa |
|  Comoros |  Paraguay |
|  Congo, Democratic Republic of |  Poland |
|  Cote d'Ivoire/Ivory Coast |  Portugal |
|  Croatia |  Reunion Island |
|  Curacao Island |  Romania |
|  Czech Republic |  Russia |
|  Djibouti, Republic of |  Rwanda |
|  East Timor |  Saint Pierre & Miquelon |
|  Egypt |  Senegal |
|  Equatorial Guinea |  Serbia & Montenegro |
|  Eritrea |  Slovakia |
|  Estonia |  Slovenia |
|  Ethiopia |  Somalia |
|  Faeroe Islands |  Spain |
|  Finland |  Suriname |
|  France |  Svalbard (Norway) |
|  French Giuana |  Sweden |
|  Gabon |  Syria |
|  Germany |  Tahiti |
|  Greece |  Tajikistan |
|  Guadeloupe |  Togo |
|  Guinea |  Tunisia |
|  Guinea-Bissau |  Turkey |
|  Hungary |  Turkmenistan |
|  Iceland |  Ukraine |
|  Indonesia |  Uzbekistan |
|  Iran |  Vatican |
|  Kazakstan |  Vietnam |
|  Krakozhia |  Yugoslavia (former) |
|  Latvia |  Zambia |
|  Lettonia | |